Altos Series
Celebrated designer Brian Graham created Altos as a fresh approach to highly adaptive guest, bariatric, and easy-access chairs with coordinating tables. Beautifully refined and stylish, yet highly durable, the Altos series allows unlimited design possibilities with optional solid surface, white oak, or walnut arm caps; 13 powder-coat frame finish colors; and the ability to use multiple textiles for the seat and back applications. In addition, Altos provides standard field-replaceable upholstery for more than one lifecycle, guaranteeing long-term return on investment.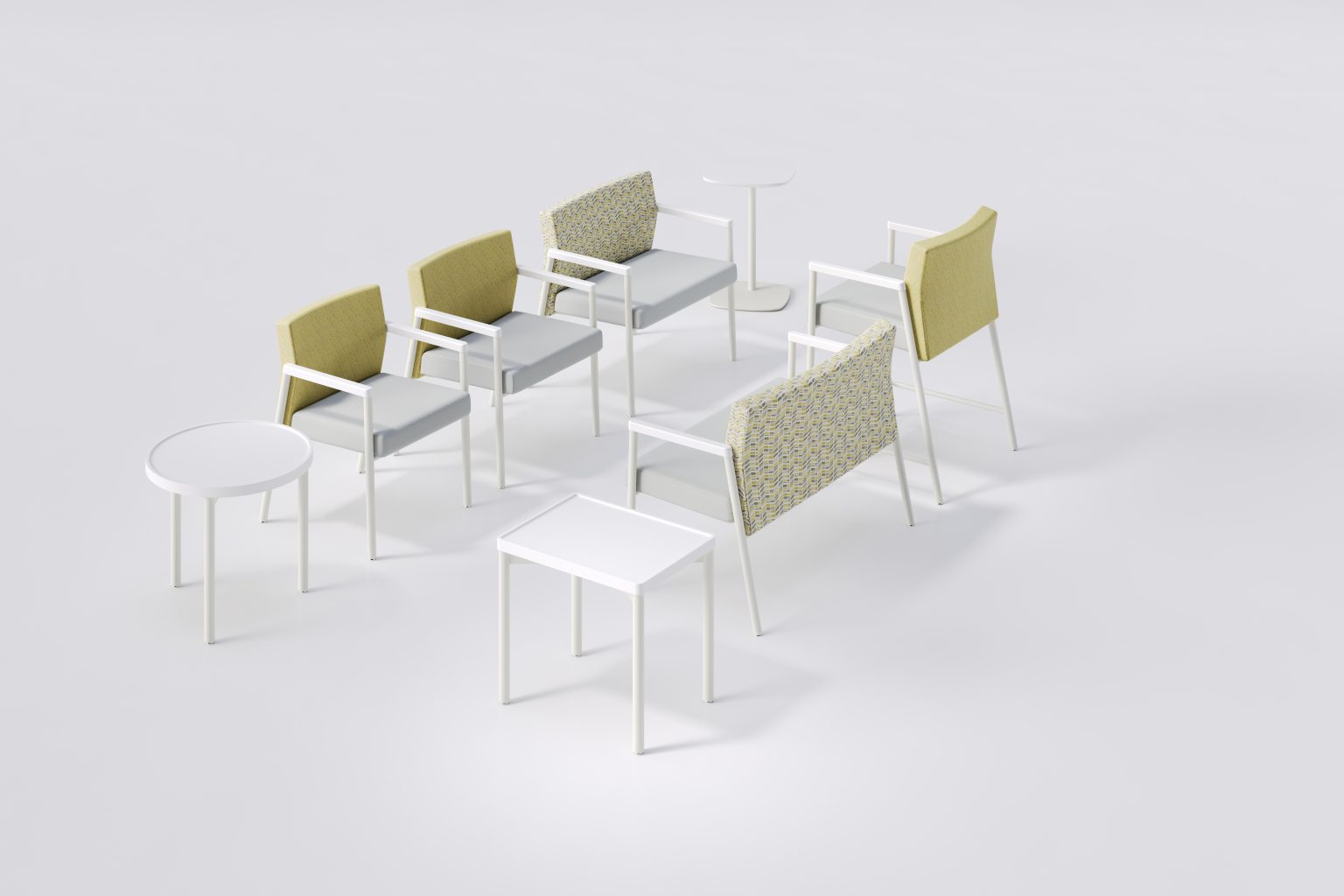 In conceiving the Altos collection, Brian Graham found inspiration in his own mother: "How would I design a chair for my own mom one that had heft and strength but did not look like a tank? Altos leverages my 25-year experience as an empathetic designer to create iconic, enduring seating that is purpose-driven and highly durable while also offering an unlimited amount of tactile humanity." The chair arms offer optional solid wood caps, and the steel frames are available in a wide variety of powder coats from Plural's innovative emotive color palettes created by Laura Guido-Clark of LOVE GOOD COLOR. According to Graham, this allows the standard side chair to easily adapt to a variety of applications, from all healing environments to corporate, sports, financial, transportation, and many others where durability and design are key considerations.
When it comes to function, Altos is in a class of its own with a strong steel frame designed to withstand a lifetime of intensive use. Wall-saver legs and back design prevent wear and damage to both the chair and interior surfaces. Seat construction features an integrated clean-out design, and high-density foam and webbing provide superior comfort with an extended lifecycle. Altos' Easy-Access Chair is designed for hip surgery patients and other applications with a higher seated position for ease of sitting and egress. Altos is designed to perform with a 500 lb. weight capacity for chairs and 800 lbs. for the settee. Altos also features coordinating side and occasional tables to complete the collection for ultimate application flexibility.
Statement of Line
Resources
Literature
MODEL Library
2D, 3D, Revit, and SketchUp
Image Library
Related
.